In Greece, Simos Seisidis was found innocent of all charges against him, and has been freed from prison last week! Simos was accused of being a member of the group "Robbers in Black," and in 2010 lost his leg after being shot by a police officer during his arrest.
Meanwhile, last Friday in Chile, the six anarchists accused in the "Caso Bombas" ("Bombs Case") of "financing terrorism" and "placing explosive devices," long ago already convicted by the mass media, and facing penalties of up to 15 years in prison…were also found not guilty!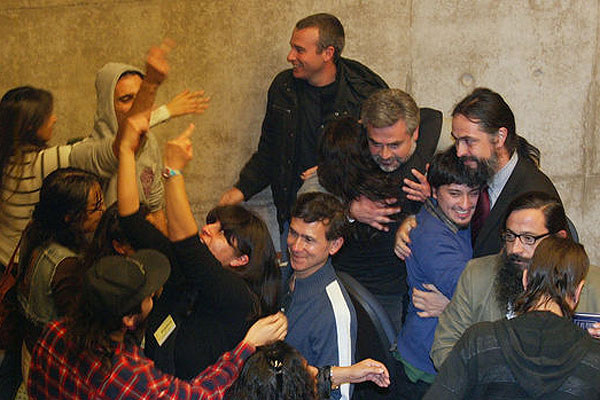 (Clearly this was something of a surprise, since for example the website "Sabotage Media" announced a rally for Friday at "the sentencing of the comrades.")
The following video shows the media lynching which followed the arrests, and ends with the emotional moments of the not guilty verdict in court…
Moments to rejoice in, and gather strength to continue the struggle in solidarity with so many others still held prisoner by the state. While the list is long, some very current examples which immediately spring to mind would be the Turkish anarchists imprisoned following the militant black bloc actions if this years 1st of May, 19 year old Deniz, prisoner in a Nuernberg jail for his antifascist engagement, Smily who was sentenced to 10 months in Stuttgarts infamous Stammheim prison, and Olga Ekonomidou, recently handed 30 days solitary confinement for defending her dignity and refusing a strip search.
Until All Are Free!