Edit 22:34: Apparently, for the comrades in Brussels who attended the mass demonstration the day went very poorly indeed, marked by a heavy repression, over 4oo arrests, and 2 serious injuries. More tomorrow…
A quick summary of todays general strike in the Spanish state, the 7th since the return of "democracy."
-All in all a high adhesion, unions putting it at around 70%.
-Numerous police charges and arrests, usually aimed at picketers trying to stop strike breakers from going about their business. The worst of it was one woman, CGT member, who was run over by a strike breaker and suffered extensive injuries, even falling briefly into a coma.
-Not of particular importance, but a nice note….Rayo Vallecano was the only professional futbol team to adhere to the strike, with the players refusing to practice and the club closing its doors.
-In Barcelona, groups of anarchists and autonomes took the opportunity offered by the thinly stretched police and the thousands of people on the streets to
a. carry out an attack on the Nazi library "Europa" and leave it completely destroyed. Sadly, no pictures (at least as of yet).
b. carry out militant actions directed at either stores which refused to close their doors for the day, or particularly "representative" symbols of capitalism.
(Imagine…radicals in Germany using similar ocassions to show solidarity, radicalize people, and generally intervene in concrete real struggles with a direct relevance to the lives of people who exist outside of university classrooms. I can hear the empörung already…they are just trying to reform the system, es geht ums ganze, there might also be people who we dont agree with there, etc.)
In the course of the confrontations, barricades were erected, and at least one police vehicle was put out of action…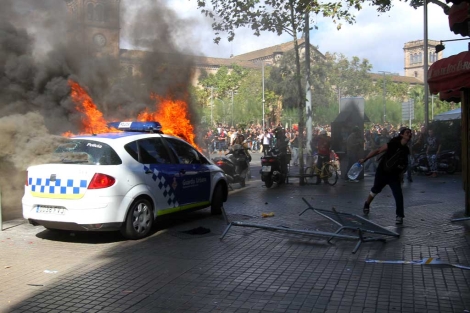 -You can read a summarized overview of the days events, both in the Spanish state and elsewhere, at La Haine (in Spanish).
-Elsewhere in Europe, independent unions carried out strike actions in Greece, and 100,000 people demonstrated in Brussels.
The day in pictures….
One of the pickets outside a Madrid transport hall…

The next round is scheduled for Saturday in France, where massive demonstrations are to take place across the country.