Archiv der Kategorie 'Atlanta y Racing'
21. April 2011
Geschlossen
There it is, after six years, finally a derby victory against the pathetic and naturally much hated Independiente scum.
Futbol fans of the world, once again, watch and learn:

And while victory *around* the field is certainly more important than on it, this time we even also were victorious there!
(Notice the avalanche behind the goal at 00:45 and after the first goal!)
Even in Göttingen, the exploited workforce of Flaming Star did what they could to celebrate the victory:
More artistically, the next day, notice the Racing emblem on the left corner of the picture:
Spiked your curiosity yet? Until a full presentation can be made here, feel free to visit Flaming Star Göttingen on Facebook.
30. März 2011
Geschlossen
Its been a while since there was a little report on the high and lowlights of the Argentine futbol world, but as usual there has been no lack of interesting anecdotes….
*

First and foremost, I have been afraid to mention it as superstitious fears of possible consequences impede me to think clearly, but at this point it seems safe to say it: ATLANTA IS LEAVING THIRD DIVISION!!!! After an 11 year long nightmare, there are now 10 games remaining in the season, and Atlanta is 12 points ahead of the second placed team.
*For a couple of weeks, not only was Atlanta first, but Racing was in first place as well, a confusing change from the reality we know, which led me to often have to pinch myself to make sure this wasnt a dream. Here as well, I was too afraid to make public mention of this situation, for fear of provoking bad luck. Now that Racing has lost the last two games and is no longer first, Im assuming its safe.
*What always was and probably always will be unsafe is of course attending a futbol match in Argentina, as Velez and San Lorenzo insist on making terribly clear twice a year. This time, Velez fans advanced all the way to the San Lorenzo entrance of the stadium, one San Lorenzo fan died after a police beating, and the game was suspended after seven minutes because of disturbances in the stands.
A video showing Velez fans storming the away fans area, set classily to cumbia villera (Argentinas gangster rap) with elegant lyrics about futbol hooliganism:

San Lorenzo fans, enraged by news of the death, attempt to storm the field, leading to the suspension of the game:

*In some lower division game between two teams nobody has ever heard of, a referee was attacked by an entire team:

*And in first division, a player and a cameraman exchange warm greetings:

*Finally, enjoy it because it wont happen often, positive words about fans from other clubs…
First, Penarol from Uruguay adapting "El Viejo" from La Vela Puerca…
Original….

Stadium version…

Finally, River Plate fans adapting "Sentimiento Villero," from pibes chorros, proving that in a stadium even the worst crap can be made to sound good.
Original cumbia villera…

In the stadium…

*Finally, not from Argentina but still absolutely incredible. Definitely many bonus points to this guy for the creativity. Straight out of the three stooges:

17. Februar 2011
Geschlossen
So the newest first division season began in Argentina last week, and although as far as Racing is concerned the actual futbol playing is secondary, I have to admit that the team that had been put together for this season was particularly inspiring, and while winning isnt the priority, its also not that bad.
The main hope of this Racing is a Colombian player called Giovani Moreno, who plays futbol in a manner so filled with fantasy and joy, its something us talent starved Racing fans have never really seen! He can be called, without much argument, the best player in Argentine futbol today. Any doubts, please see for yourselves:

Long story short, first game of the season, Racing wins away against All Boys 1-0, life is good. Right? Wrong. Knee injury, surgery needed, out for 6-8 months. I could cry…
This is just the icing on the cake of a pre-season marked not only by several important injuries, but also the death of Racings massage therapist, killed by lightning during practice!
Now Im a pretty rational person, but all this really makes me think that it is time to finally find the fucking cats buried under Racings field so that this voodoo might one day end. (What the fuck? Click here, scroll down to the last Youtube video, there is even a documentary about black magic against Racing!)
The smile of the day, if one was possible in the face of such a world shaking tragedy, would be this one. One of the most spectacular referee/linesman mistakes ever. Lucky it was in Costa Rica and not somewhere else, they might not have survived it…
As tragic as the developments in Racing might be, Atlanta on the other hand is at least marching apparently non-stop to second division! 17 games remaining, 10 points ahead of the second placed team, winning every game. The decade long march through the abyss of third division seems to be nearing its end…
The last two games:
Its been a while since weve had the time to talk about much of anything aside from DNA problems with the law and/or jackets. And while we have been somewhat extremely overstretched, overworked, and overstressed in our little bubble here, quite a bit has (shockingly!) still been happening in the rest of the world. But before we turn your attention, in a summarized and terribly disorganized manner, to some other issues of current relevance (as well as a small Fire and Flames world update), again the reminder so that it is kept at the top of the page:
Comrade Martin R. had his DNA sample taken today by the police. Therefore, today is "Tag X" and a spontaneous demonstration is called for at 18:00, Marktplatz, Göttingen.
*Speaking of solidarity, for those of you village folk, we suggest the following leisure time activity for tomorrow evening:
*On Saturday in the Czech Republic, antifascists remembered the third anniversary of the death of Jan Kucera, murdered by fascists in January of 2008. If you click here, you can read a full report from antifa.cz about the days events. Click on "English Translation" under the article title for an English version.
Vzpomínkový pochod k třetímu výročí úmrtí Jana Kučery from 161media on Vimeo.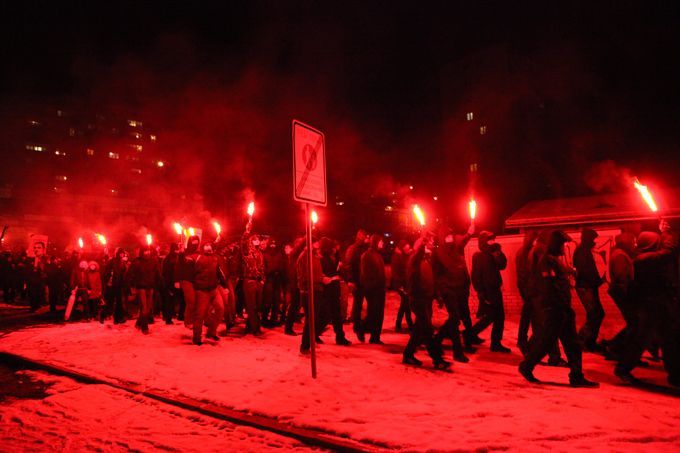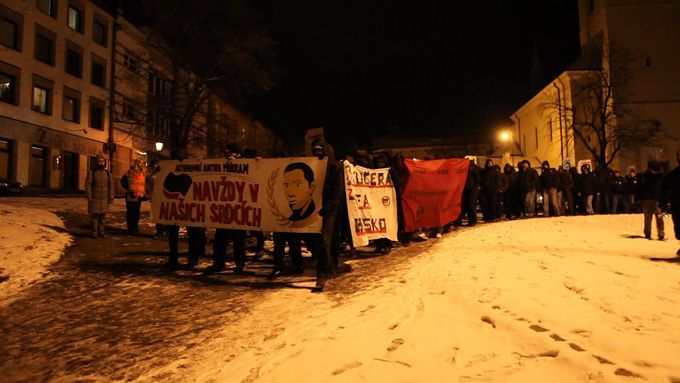 *The occupied house project Liebig 14 in Berlin is threatened with immiment eviction. A date has been set for 02.02.2011 for the eviction. A solidarity demonstration is scheduled for tomorrow:
*Fire and Flames World Update
-First of all a reminder that the discount action on the new jackets ends on Monday night! After that, they return forever to their normal prices.
And while we are on the subject…the feedback has so far been incredible, and we are frankly somewhat shocked at the large amount of jackets we have sent out over such a short period of time. Thanks very much!
Furthermore, we added two new Mad Butcher Records releases to the catalog today. On the one hand, the debut album of Kapelle Vorwärts, a band composed of ex-Commandantes members and also performing punkrock versions of classic songs of struggle and resistance.
The second release is the third full length of the Italian ska-combo The Offenders, titled "Shots, Screams, and Broken Dreams".
*Last but most certainly not least, after almost two months of terrible painful abstinence, Argentine futbol begins again tomorrow. Or at least third division does, and with it the dream of seeing the currently first-placed Atlanta finally make its return to second division this June! Its all very exciting, we know, but please try to control yourselves!
(Racing begins on Feb. 14)