*You win some you lose some…Is what comes to mind when seeing this picture of some ARAB banners at a recent demonstration…
On the one hand, definite demo style and content points for
a. the fabric of the upper banner
b. the old school but not for that any less accurate slogan reading "In the Belly of the Beast" (or in German, the heart, but same idea)
c. the graphic they used, of which we are clearly also fans…

On the other hand, somebody needs to please, please explain to us what on Earth "Anti-capitalista Real Ya" is supposed to mean, because as a native Spanish speaker…I dont have the slightest idea.
*As an anarchist, I find myself surprisingly obsessed with the Greek elections. In all honesty…I even stayed up all night following the vote tally being updated during last months elections. As far as the coming elections, so many questions…

Will SYRIZA really win the elections? If so, is this good or bad? Will they be able to form a government? Will SYRIZA move sharply to the right and simply become a renewed PASOK? Will the KKE continue its sectarian position and refuse to even meet with SYRIZA to discuss possible coalition prospects? What would a SYRIZA/KKE government look like? Is this something we want to see? Will Golden Dawns increased post election campaign of anti-immigrant terror (the latest example…) lead to their percentage of the vote significantly shrinking? Are they really so thuggish and stupid that they couldnt control themselves, or was this calculated strategy to show themselves as a real fighting force separate from the "political class"?
Questions upon questions…
*Speaking of crisis, in the Spanish state, a minin town and its youth resist the effects of the crisis:
*More than a few of you were not fast enough to order the "Hardcore is More than Music" DVDs from the Czech Antifas before they sold out. Here is the full video on the web….

*Finally, this weekend, you can find us at the Stockholm anarchist bookfair!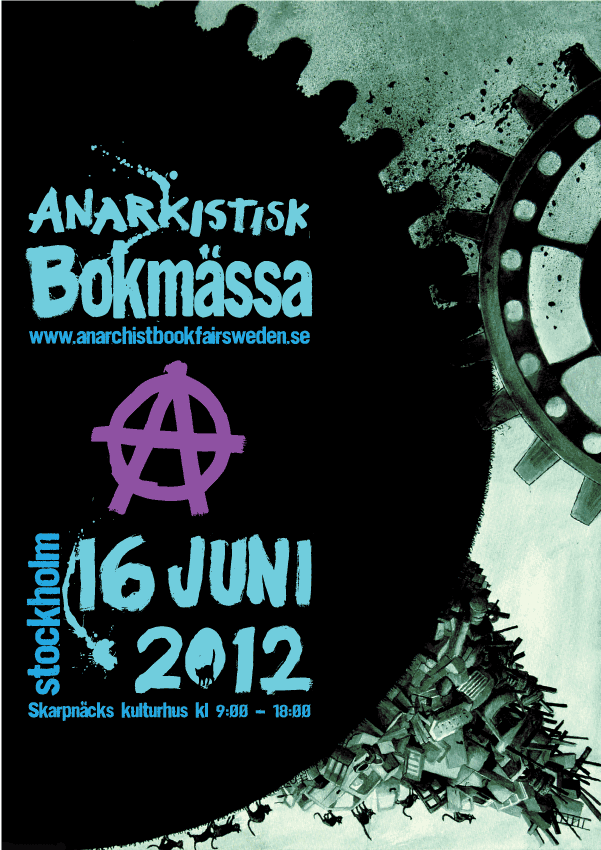 Should this be a little too far North for you, Goettingen offers the Antifee festival this weekend, with the particular highlight of the Roter Buchladen soliparty…

"Der seit 1972 bestehende Rote Buchladen, von einem unabhängigen Kollektiv betrieben, ist ein wichtiger Bestandteil der Göttinger linken
Szene. Lange Jahre in der Roten Straße ansässig, befindet er sich mittlerweile am Nikolaikirchhof und lädt zum Stöbern in einem kleinen, aber feinen Sortiment linker Literatur, Belletristik, Sachbüchern, etc. ein. Außerdem bietet der Rote Buchladen die Werke der "Büchergilde Gutenberg" an und kann alles – vom Lehrbuch bis zum Comic – meist in 24h bestellen.
Neben dem Offensichtlichen, nämlich dem Verkauf von Büchern, bietet der Rote Buchladen vielen Gruppen Postfächer und ermöglicht es dadurch anonym politischer Arbeit nachzugehen und so das Risiko von Repression zu verringern. Durch merkwürdige Gesetzgebung unverschuldet in eine finanzielle Schieflage geraten, benötigt der Rote Buchladen Unterstützung in Form von Geld. Wenn wir in Zukunft nicht nur die Wahl zwischen Buchhandlungskonzernen und Internetversand haben und einen wichtigen Teil linker Strukturen in Göttingen unterstützen wollen, muss jetzt gehandelt werden. Es gilt einer der wichtigsten Institutionen linker Politik in Göttingen unter die Arme zu greifen! Deswegen heißt es:
Solidarisch feiern! Linke Strukturen unterstützen und erhalten!
Daher laden wir euch ein, am Samstag den 16.06., nach einer wundervollen Zeit auf dem Antifee, mit uns gemeinsam im Stilbrvch für einen guten Zweck zu feiern!
Musikalisch wird das ganze begleitet von Maria Terror (BREAKBEAT UNIVERSE), Djane Tralala und anderen.
Special bis 1 Uhr: Bring 5 Deutschlandfahnen zur Theke und erhalte ein Getränk (außer Cocktail) gratis!
Unterstützt von:
Antifaschistische Linke International – FEMKO – Gruppe Gegenstrom – Grüne Hochschulgruppe – Grüne Jugend Göttingen – Jugend Antifa Göttingen – Rote Hilfe Ortsgruppe Göttingen – Schöner Leben Göttingen – YXK"