This is just great, no need to add anything, the article says it all well (even the criticism)…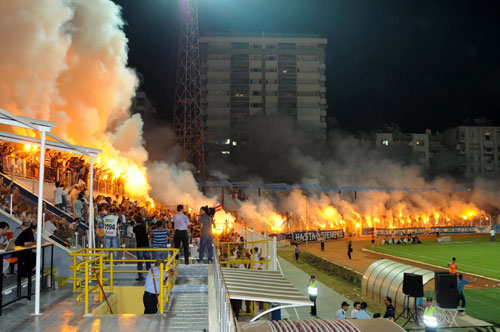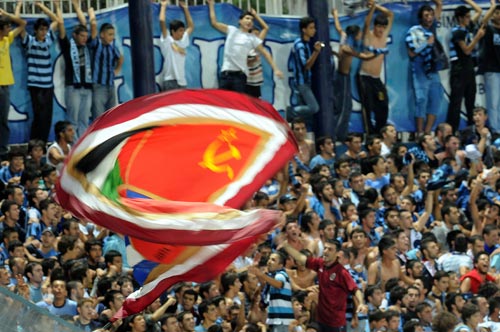 "Turkish third-division team Adana Demirspor hosts Italian Serie A club Livorno for a friendly game as a sign of solidarity between the two workers' clubs. The game becomes an outlet for opposition to today's modern football, but it is done in the Turkish way, as the mayor from an ultra-nationalist party is as welcomed as an openly communist football star
Football has long been considered the "opiate of the masses" by the majority of leftists in Turkey, in a reference to Karl Marx's famous quote about religion. But many have changed their minds after a friendly game in the southern city of Adana.
Adana Demirspor, a team in Turkey's third division, hosted Italian Serie A club A.S. Livorno Calcio on Friday night. A lower-division team playing at home against an Italian club was a story in itself, but what happened from there was beyond the imagination of even the most optimistic true football enthusiasts in this country.
Spectators entering Adana's 5 Ocak Stadium were welcomed by "Bella Ciao" on the loudspeakers, a song sung by the leftist anti-fascist resistance movement in Italy. A huge banner hanging on the fences surrounding the pitch read "Hasta Siempre," or "Always," around an image of legendary Cuban revolutionary Ernesto "Che" Guevara. Another banner bore a picture of Turkish poet and communist Nazım Hikmet along with his famous verse, "To live! Like a tree, alone and free; like a forest in brotherhood." People waved red flags, some with the photo of Deniz Gezmiş, a prominent Marxist-Leninist activist and one of the founders of the Turkish revolutionary movement of the late 1960s. Gezmiş was hanged in 1972.
For a match in Turkey, the atmosphere was absurd. But it was no coincidence. The teams on the pitch were Livorno Calcio, world-renown for its supporters' firm communist stance, and Adana Demirspor, founded by railway workers in the city and the closest thing Turkish football has to a workers' team.
No other European team playing in its country's top league would have accepted a friendly game invitation from a Turkish third-division club. But this game was not an ordinary one. As sports columnist Cem Dizdar put it: "Adana calls Livorno and says, 'We are a workers' team, let's play,' and the Italians say, 'OK, you prepare the pitch, we will be right there.' This shows that just like 'another world,' 'another football' is possible. Such acts of solidarity can no longer be seen in today's modern football."
That sentiment was reflected in one of the huge banners in the stands, which read, in Italian, "No Al Calcio Moderno," or "No to Modern Football." The people at the match objected to today's corrupt, commercialized game and wanted their voices to be heard. Thousands in the stands, whether supporters of Gençlerbirliği, Galatasaray, Fenerbahçe, Beşiktaş, Kocaelispor, Liverpool or Livorno, led by the Demirspor supporter group "Şimşekler," stated: "We don't like what you are doing to the beautiful game. We will not be your customers. We own the game."
Socialism ala Turca
But, of course, the venue was Turkey, so the event had to be ala Turca. That is why Adana Mayor Aytaç Durak, who won the last four local elections with different right-wing parties, the latest being the Nationalist Movement Party, or MHP, was the second most popular man in the stadium, after Livorno's communist star, Cristiano Lucarelli. Durak ran to the stands with a Livorno scarf on his shoulders right after Lucarelli greeted the fans with his raised left fist. He was warmly welcomed.
The man who made the event possible was another MHP member, Adana Demirspor Chairman Bekir Çınar, who is also a member of the municipal assembly. But he did not sound like a rightist when he talked. "Adana Demirspor fans oppose, raise your voice," he said. "They have always been like this and always will be. This identity will not change, regardless of who becomes the chairman."
Adana Demirspor first made the national press when the team was denied permission to carry a banner that read, "We are all Hrant," after Turkish-Armenian journalist Hrant Dink was murdered in January 2007. "It was an act against injustice," said Çınar. "If we want, we can even be the pioneers of the government's Kurdish move."
Though this ideology allowed hammer-and-sickle flags to be waved in the stadium, not everything was tolerated. Security and police officers stepped in against a group carrying a banner that read "Freedom for Güler Zere," in reference to a 37-year-old who suffers from terminal mouth cancer and is serving a 14-year stint in jail for being a member of an illegal organization.
Of course, not everybody in the stadium Friday night was a socialist, but the socialist symbols and characters were a way of making a statement. And what a statement they made…
The result? The scoreboard showed a goalless draw, but it was a certain victory for Turkey's real football enthusiasts.»
(Source